Originally released in the June/July and August 2012 issues of Esquire magazine, "In The Tall Grass" can now only be acquired as an e-book. If you get the opportunity to acquire this novella or even just read it, I highly recommend you do it.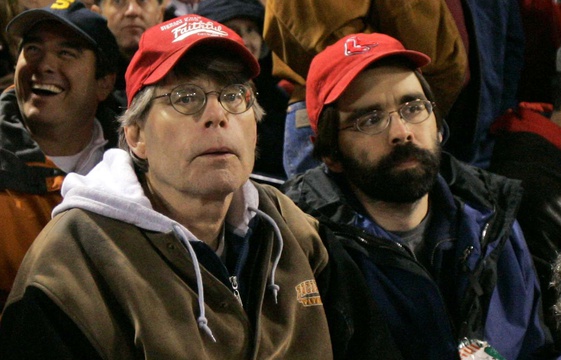 Cal and his sister Becky are travelling across country to move Becky into their aunt and uncle's house. During their drive, on a desolate road in Kansas, Cal and Becky hear cries for help coming from a tall grass field on the side of the road.
They park at a seemingly abandoned church, The Black Stone Church of the Redeemer. All the cars in the lot are covered in dust; looking like they've been there for ages. Cal and Becky now hear cries from a little boy named Tobin, and his mother. They try leading the source of the voices toward them, out of the grass.
Eventually the siblings go into the grass in search of the lost mother and son. They get separated and insanity ensues. They cannot find their way out, or to each other, no matter what they do. There are moments when King describes the siblings jumping and yelling to find each other, but the landscape moves around them, making it impossible.
Once in the grass, King fans immediately think of his short story "Children of the Corn." The tall grass and tall corn are where the similarities stop though. This is a much more brutal and disturbing story that had a couple scenes, one particularly, that made my jaw drop.
I want to go deeper into this; the gruesome scenes the overall sense of desperation, distress, claustrophobia and hopelessness… but I don't want to spoil the story. It is very good and quite terrifying. I am really interested to see how Netflix goes about adapting it.
Speaking of that: Vincenzo Natali will write and direct the film which has landed stars Patrick Wilson and James Marsden. Laysla De Oliveira, Will Buie Jr., Avery Whitted, Rachel Wilson and Harrison Gilbertson have also joined the cast of "In The Tall Grass." It is unannounced, but its very possible that Gilbertson and Oliveira will play Cal and Becky. Buie Jr. is set to play Tobin and Rachel Wilson will play his mother.
Anyway, I highly recommend you get your hands on this thriller as soon as you can, it's worth it. Hopefully the movie doesn't cut too much of the gruesome parts out… they are just insane.
5 out of 5